Gorgeous Outdoor Kitchens in Anne Arundel County
Custom Outdoor Kitchens by Arundel Home Improvements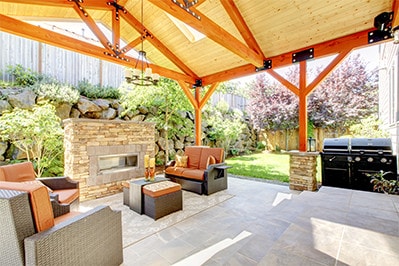 If you want more space for hosting friends and family, then choose Arundel Home Improvements in Pasadena, MD for a custom outdoor kitchen design and installation. Whether your home is the go-to for social or family gatherings or you simply want another way to enjoy the summer weather, a custom outdoor kitchen may be right for your home. Our team of highly trained designers and installation experts will help you maximize your space so you can use it for whatever you desire. We have been transforming area homes for more than 35 years, and we are certain we can help you too! Contact our team today to get started with a free consultation.
What's Included in My Custom Outdoor Kitchen?
When you choose Arundel Home Improvement for your custom outdoor kitchen installation, we'll create a completely unique and customizable space for you to host. Our team will work within your budget to help make your dream outdoor kitchen a reality. Throughout our decades of experience, we have cultivated positive relationships with the leading manufacturers and wholesalers in the area to provide you with high-quality products at an affordable price. All of our employees are professionally certified, and our work is guaranteed. Our customizable features include:
BBQ Grills – Whether you love cooking for social gatherings or simply prefer the smoky flavor of grilled meats and vegetables, a BBQ is the right choice. We can install built-in outdoor grills to create a unique experience.
Lighting – Ambient lighting can help ensure that your parties last well into the evening. We offer a variety of lighting options to meet your particular style.
Wine Bars – Whether it's part of your outdoor kitchen or a stand-alone feature, your outdoor patio wine bar is an excellent way to entertain guests and create a space that's right for you.
Fire Pit – No outdoor space is complete without a fit pit. Your fire pit will offer warmth, lighting, and a focal point for your outdoor kitchen.
Entertainment System – Just because you're outdoors doesn't mean you can't take advantage of indoor luxury. An entertainment system installation will help you stay connected.
Dining Tables & Chairs – As a host, it's crucial that there's plenty of comfortable seating for your guests. We can find you the right outdoor dining set.
What Are the Benefits of an Outdoor Kitchen?
As more homeowner look for unique ways to host their friends and family, outdoor space has become a major feature for many homes, and for a good reason. An outdoor kitchen provides a lot of value for homeowners. Having an outdoor space to host your get-togethers will improve your social life, make entertaining easier, and reduce clean up after the party. Not only will it make your life easier and more exciting, but an outdoor kitchen will also improve the value of your home and lower your energy costs. Contact our team today and learn how the experts at Arundel Home Improvements can create a custom outdoor kitchen area.
Complete Outdoor Kitchen Design and Installation
Homeowner throughout the area choose Arundel Home Improvements for their outdoor kitchen renovation project because we're licensed and hold an A+ Rating with the BBB. Our comprehensive design and installation process means you'll know exactly how our work is progressing. We make every effort to ensure that we stay on schedule and within your budget. Our process includes a free design consultation. There we'll evaluate your needs, budget, and space. Once you're satisfied with the design, we'll begin the installation. Our team will ensure no detail is overlooked, so that you're entirely satisfied with your design. Contact us today to get started with a free consultation.
Why Choose Us?
The Ability to Complete a Large Variety of Jobs From Design to Completion
Residential and Commercial Services
Structural Foundation Repair
Over 35+ Years of Experience