Bathroom Remodeling Ideas for Homes in Pasadena, MD
Anne Arundel County home improvement specialists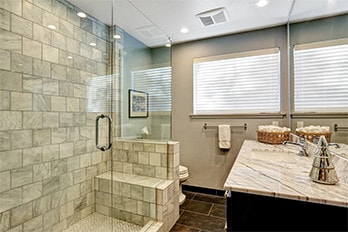 Bathrooms serve as an important area or relaxation and self-care. It's a space you want to keep aesthetically pleasing, comfortable, clean, and well built. No matter the age of the house or the size of your project, we will provide you with a quality bathroom that fits your needs and budget that your family will be able to enjoy for years to come.
Whether you're looking to renovate an existing bathroom or add a new one to your home or commercial building, selecting the right builder is the most important decision of all. At Arundel Home Improvements, we've been earning the trust of our residential and commercial property owners for more than 35 years. All our professionals are licensed through the State of Maryland to ensure you receive reliable services. In addition, we also proudly carry an A+ rating from the Better Business Bureau (BBB).
Among other things, a bathroom renovation can add
New lighting effects
Extra storage space
Better climate controls
A larger tub and/or bath
Bathroom renovation do's and don'ts
Do:
Account for your budget. Be sure to call us anytime for a free estimate.
Keep your colors neutral. When accounting for things like tile and paint, be sure to keep with neutral colors that will age well and allow you to decorate how you want.
Pay attention to the shower. The shower is the focal point of your bathroom, an important for many potential home buyers.
Call a pro. Do not skimp on quality with your bathroom redesign by relying on a DIY.
Consider ventilation and lighting. New lighting fixtures is a good way to modernize your bathroom and enhance its positive features. Always make sure that your ventilation is up to date a clean to keep the air in your bathroom fresh and prevent mold in the future.
Don't:
Stick to too many trends. Many modern trends fade out within a few years and may reduce the value of your home down the line.
Cheap out on materials. While it's important to consider budget, investing in quality materials can keep your home appealing to homebuyers and increase the overall ROI of your home.
Go into it without a plan. Be sure to consider what your bathroom will be used for and model it for that. Will it be for relaxation? Is it a guest or master bathroom? Our professionals will be sure to consult with you on a plan that meets your needs and budget.
Put your bathrooms in the hands of contractors you can trust. Call our experts today!
Why Choose Us?
The Ability to Complete a Large Variety of Jobs From Design to Completion
Residential and Commercial Services
Structural Foundation Repair
Over 35+ Years of Experience