Kitchen Remodeling in Anne Arundel County
Add value & convenience to your Maryland home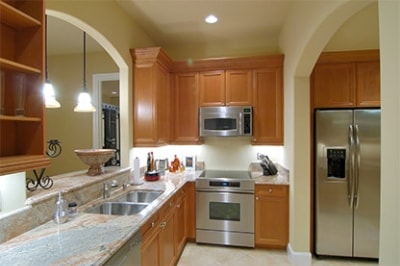 No matter the size of your home, the kitchen is an important hub of family activity and cooking. In fact, they're so essential to the home that kitchen renovations consistently provide some of the highest returns on investment. A well-maintained, newly remodeled kitchen can increase the ROI of your home by as much as 200%. Kitchens can also dramatically improve the form and functionality of your cooking space. At Arundel Home Improvements, we've been remodeling kitchens in Anne Arundel County for more than 35 years! Our decades of experienced has ensured you will receive the highest level of quality of work available, on time, within your budget, no matter the size of your project.
A kitchen renovation allows you to:
Replace broken or outdated floors, cabinets, and countertops
Save energy with better lighting and more efficient appliances
Create a space that is a better fit for the needs of your family
Increase your storage space for non-perishables
Increase your space for cooking and baking activities
Enjoy the craftsmanship of Anne Arundel County home improvement experts
Kitchen remodeling do's and don'ts
Do:
Have a plan for you you'll use the space. Do you want a place for kids to hand out and do homework? Need a large area for cooking and storage? This is all important to keep in mind when planning your kitchen.
Keep within your budget. Be sure to make a list of your needs to gather a rough estimate on what your renovation may need. Our professionals will be sure to assist you with a free estimate.
Get a kitchen island if space allows. An island will not only provide more area for cooking but give a place for people to gather and sit.
Make your kitchen well lit. Lighting is important for opening your space and achieving a certain aesthetic. Be sure to incorporate dimmable lights for an ambient feel.
Don't:
Rely on the help of experienced professionals.
Place your oven next to your other kitchen appliances or wall. This can minimize workspace and cause a cramped feel in your kitchen.
Mismatch your appliances. This could make seeing repairs more difficult and ruin the look of your kitchen.
Forget to account for a space for a trashcan.
Put your kitchen in the hands of contractors you can trust. Contact us today!
Why Choose Us?
The Ability to Complete a Large Variety of Jobs From Design to Completion
Residential and Commercial Services
Structural Foundation Repair
Over 35+ Years of Experience